Musereo Mono to Stereo Converter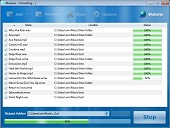 Musereo Mono to Stereo Converter is a very easy to use Windows software that converts mono audio files (MP3, WAV or WMA) to stereo in just a few clicks, helping you to breathe new life into your digital audios mono, flat and dull.

You can fine-tune the stereo width, harmonic richness, level balance and panning. It is specially optimized for earphone/headphone junkies.
This Software Lets You...
Easily find mono audio files on your computer.
Drag and drop to add files/folders for conversion.
Customize options for the output stereo effects.
Convert multiple files in a single batch.
Getting Started
It's incredibly easy to get it to work. After you started the program, you'll see a Getting Started guide in the main window, as below: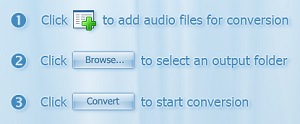 Just follow these easy steps to begin converting audios.
Quick Tutorial
Adding Files/Folder for Conversion
The Add button dropdown menu lets you choose among three options: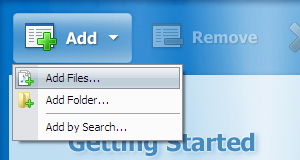 The Add Folder option allows you to add all supported audio files in a specified folder and its sub-folders.
The Add by Search option displays a wizard dialog, helping you to find mono audio files recommended for conversion. See below (click thumbnails to enlarge):
You can also drag files/folders from Windows Explorer into the files list, as below: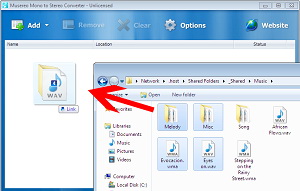 Removing Added Items
To remove added files, just select them and click toolbar button Remove. To remove all added files, click toolbar button Clear.
Displaying Shortcut Menu for Added Items
To display the shortcut menu, just right-click an item in the files list. Choose Open Containing Folder to open the folder that contains the selected file in Windows Explorer. Choose Play to play selected file in your default media player.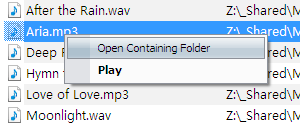 Choosing an Output Folder
The output folder is where the converted files will be stored. Just click the Browse button (below the files list) to choose an output folder.
If you do not specify an output folder, converted files will be stored in the same folder where the input files (those added to the list for conversion) are located. In this case, the Output folder entry displays <Same as Input>.
You can click button

to open the output folder in Windows Explorer.
Setting Options
To display the Options dialog, click toolbar button Options.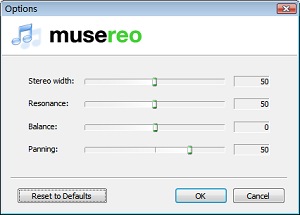 These options enable you to fine-tune the stereo effects to be produced. For a more detailed description of the options, click here.
Starting Conversion
To start conversion, click button Convert (at bottom-right of the main window). Note this button then changes its label into Stop.

At any time during conversion, you can click Stop button to abort the process. You may need to wait a few seconds for the process to actually stop.
More Information
Click here for more screenshots and descriptions of the program's user interface.